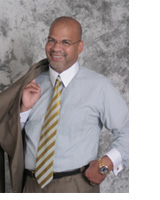 pastor thaddeus eastland 
With an insatiable passion and crystal clear vision our pastor Thaddeus R. Eastland responded to the need for a unique expression of "Godly Possibilities" in Pearland and surrounding suburbia. In January 2005, HOPE Church Pearland was born.

Today, HOPE - Pearland is bringing healing, wholeness, reconciliation, and of course HOPE to individuals and families. By creating a loving and compassionate community, HOPE - Pearland has become a recognized beacon of light in the community.

Pastor Eastland lives, breathes, and teaches the HOPEFUL ("hope-filled") life. God has equipped Pastor Eastland to help many persons just like you find renewal, deliverance, inspiration and JOY! God says in Jeremiah 29 "I know the plans that I have for you, plan to prosper you… to give you a future with HOPE!" Pastor Eastland and the HOPE - Pearland family are convinced that your best life is still ahead of you!

Our pastor is the founder of Speak to the TREE, T. R. Eastland Enrichment MINISTRIES. "Speak to the TREE" uses faith based principles to help participants in Men's, Women's, and Couples' retreats and workshops discover their "voice": equipping them to speak healing and enrichment to their lives, careers, and marriages. The ministry also does ENCOUNTER groups for Premarital and Engaged couples, as well as Life Coaching, Grief Recovery for individuals and Mid-Life Transitions for men "…have faith the size of a mustard seed, and you can say to the mulberry tree 'MOVE'… and it will obey" Luke 17:6.